Of course, you're going to get your heart broken. And it isn't just going to happen once, but a lot. That's just part of growing up, and it makes you stronger. Then you can handle it better next time. You may not get through it yourself, but your friends will help you through it. And you'll be a stronger person because of it. Then one day someone will come along, and it'll all pay off and no one will ever break your heart again. Here are the best songs that can temporary mend your broken heart.
---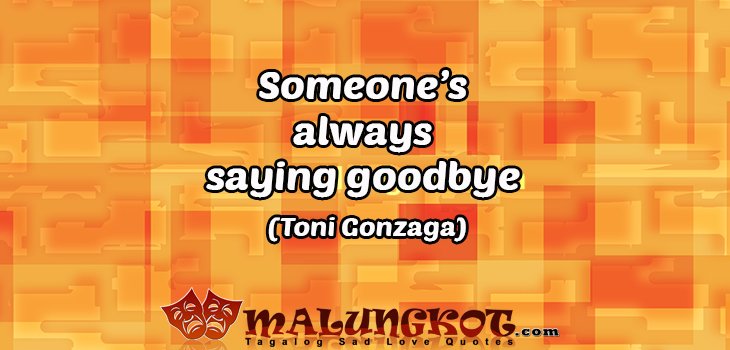 1. Someone's always saying goodbye (Toni Gonzaga)
Why do people fall in love, and then end up crying? Why do lovers walk away from themselves, when their hearts are breaking? Why does loving sometimes never stay long, why does kissing this time mean you'll be gone. Why does gladness become sadness, things that I don't get? Someone's always saying goodbye, I believe it hurts when we cry, don't we know partings never so easy, And with all the achings inside, I believe some hearts will survive, trying hard to pretend that were gonna be fine.
---
2. Where do broken hearts go (Whitney Houston)
Where do broken hearts go? Can they find their way home, back to the open arms, of a love that's waiting there? And if somebody loves you, won't they always love you. I look in your eyes, and I know that you still care, for me. I've been around enough to know that dreams don't turn to gold and that there is no easy way. No you just can't run away and what we have is so much more than we ever had before and no matter how I try you're always on my mind.
---
3. Till my heartaches end (Ella May Saison)
I remember when you said that you'd be here forever then you left without even saying that you're leaving. I was hurt and it really won't be easy to forget Yesterday and I pray that you would stay. But then you're gone and so far away. I was afraid this time would come I wasn't prepared to face this kind of hurting from within. I have learned to live my life beside you. Maybe I'll just dream of you tonight and if into my dream you come and touch me once again I'll just keep on dreaming till my heartaches end.
---
4. Parting time (Rockstar)
I remember the days when you're here with me. Those laughter and tears we shared for years. Memories that we had for so long it's me and you. Now you're gone away you left me all alone. I don't wanna lose you girl I need you back to me. I don't wanna lose you Baby can't you see. Oh, I need you, You've been a part of me. I wish someday you'll be back home, 'Cause I really miss you Darling, please come home.
---
5. Maybe (King)
Maybe it's wrong to say please love me too cause I know you never do. Somebody else is waiting' there inside for you. Maybe it's wrong to love you more each day because I know she's here to stay. But I know to whom you should belong. But my love is stronger than before. I wanna see u more and more but you close your door. Why don't you try? To open up your heart I won't take so much of your time.
---
6. Why can't it be (Gino Padilla)
Why can't it be? Why can't it be the two of us? Why can't we be lovers? Only friends. You came along at a wrong place, at a wrong time. Or was it me Baby I dream of you every minute. You're in my dreams you're always in it. That's the only place I know where you could be mine and I'm yours but only till I wake up.