Here's a flashback of some of our English-tagalog quotes about love, life and friendship. We selected the best ones. English/Tagalog Love, Breakup, Inspiring and Barkada Quotes all the way for you! Enjoy reading! Don't forget to share!
1. Alam mo kung anong masakit? Yung ikumpara ka niya sa ex niya at sabihin na BUTI PA SIYA.
The saddest part of being in a relationship is when he compares you to one of his exes. That is the worst feeling ever for girls. I don't understand why some of the guys keep comparing their ex to their girlfriend when they already knew that it may hurt her? Stop comparing, start loving their imperfections. You know what? True love doesn't see's imperfection, it accepts it.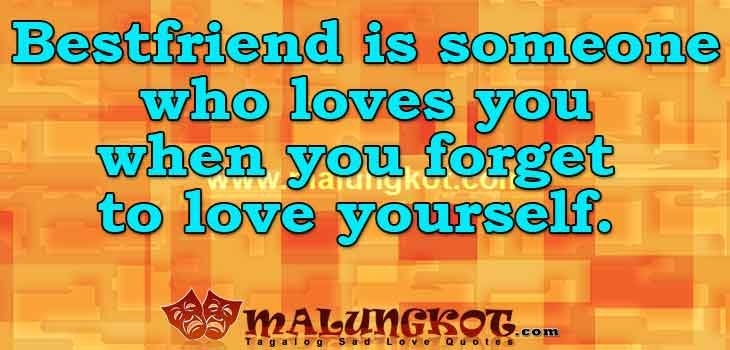 2. Bestfriend is someone who loves you when you forget to love yourself.
Some people come into our lives and quickly go. But only bestfriends will come and stay. Best Friends can turn a horrible day, into one of the best days of your life. They can make the good times better and the hard times easier. You may forget to love yourself but they're gonna show you how worth loving you are.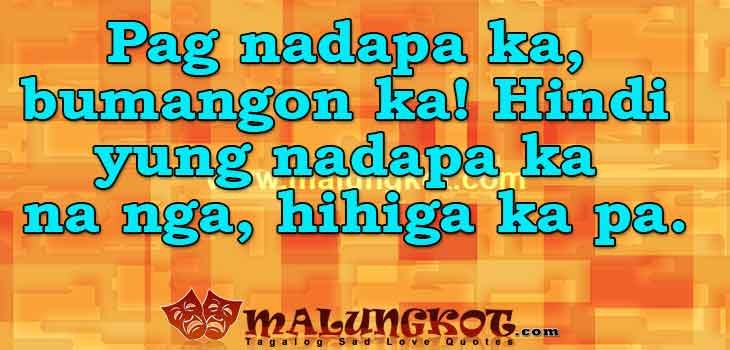 3. Pag nadapa ka, bumangon ka! Hindi yung nadapa ka na nga, hihiga ka pa.
Understand that there is no benefit in holding on to heartache, bumangon ka! Hindi pa end of the world. Marami ka pang pwedeng gawin, hindi lang pagmumukmok. Realize that although it is over, your relationship with that person was unique and special in a lot of ways. You can congratulate yourself for being brave enough to take a risk and fall in love, and encourage your heart that even though love didn't work out this time, there will be a next time. Get up and smile like nothing happens!
4. Minsan ang tao kailangan din masaktan ng sagad sagad para malaman nila na.. Tama na, hanggang dito na lang talaga.
May mga bagay na obvious na. Kinakain tayo ng sarili nating kapansanan. Mga nagiging bulag sa damdamin. Bingi sa mga bagay na sinisigaw nang puso. Nagiging pilay tayo dahil hindi tayo marunong mag tiwalang may handang sumaklay sayo at umalalay. Hindi naman mali ang sumuko, lalo na't alam mong nasa dulo ka na. Matutong pahalagahan ang sarili, dahil hindi naman lahat ng masasayang araw at pangyayari sa buhay natin e iaasa natin sa ibang tao. Ang tunay na kaligayahan e makikita mo sa sarili mo.
5. Sometimes you have to fall from the mountain to realize what you are climbing for.
Whatever the struggle, continue the climb. It may be only one step to the summit. Life is a constant climb, but the journey is rewarding and the view is great. It's just a matter of pushing forward when the going gets tough.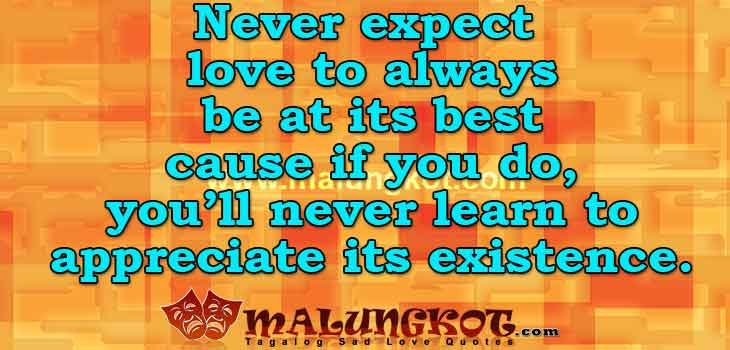 6. Never expect love to always be at its best cause if you do, you'll never learn to appreciate its existence.
When you open up to love, you must be open to getting hurt at times too. If you expect to love someone, and not have disappointment every now and then, then you don't want love, you want something perfect. And good luck finding that.
7. Di man sila perpektong kaibigan pero perpekto naman ang araw mo pag kasama mo sila.
Even the worst day of your life will become pefect when you're with your friends. They may not solve the problem you're encountering but they'll definitely lessen your burdens. Because real friends knows when you're down to something. Hindi man sila perpekto, pero pagdating sa pagdamay, sila yung pinaka perpektong taong makikilala mo.
(Visited 5,993 times, 8 visits today)