"Sorry" – It may be the hardest word to say, but it's worth it. If you don't have any idea on how to tell others that you are sorry, you may start by analyzing what you did wrong. If you have made a mistake, confess it and come clean. Seek forgiveness with remorse in your heart. Be courageous to accept punishment and don't pass the buck, even if you are not fully responsible for the crime. Here are some English/Tagalog Sorry Quotes for inspiration.
1. Ang SORRY nagpapagaan lang ng kalooban, hindi nagtatama ng kamalian.
Understand that no matter how many times you say you're sorry it won't wash away all the pain and hurt you caused and the tears that made someone cry. The word sorry loses its magic when you use it too often, especially for the same mistake. The first rule of saying 'I'm sorry' is to rectify the mistake, and ensure that you never repeat it. You need to go to the root of the problem, amend it, and ensure that there will be no more future incidents of the same type.
2. Minsan hindi sapat ang salitang "SORRY". Dapat laging may kasamang pagbabago.
If you want to apologize properly, you must first address where the problem or misunderstanding starts. Sometimes, asking apology from people without knowing the real cause may aggravate the pain they feel. Sorry is only the beginning of being forgiven. Sorry does not mean anything until one proves himself, because actions will always speak louder than words.
3. People think sorry is a magic eraser.
Sorry – such a small word with a huge responsibility. People, are never sorry. If they cared about your feelings, they would not break your heart in the first place. Sorry doesn't erase the pain, it only lessens.
4. Sometimes saying sorry is the most difficult thing on earth. But it's the cheapest thing to save the most expensive gift called "Relationship".
The heart that knows how to bow down and say SORRY is the heart that loves the most. Sometimes saying I'm sorry doesn't mean you were wrong it's just simply showing respect to the one you love; because you understand hurt inside n you want to get rid of it before it affects you both. Never try to dominate the one who says sorry to you for their mistake because, they understand, you are more important than their ego.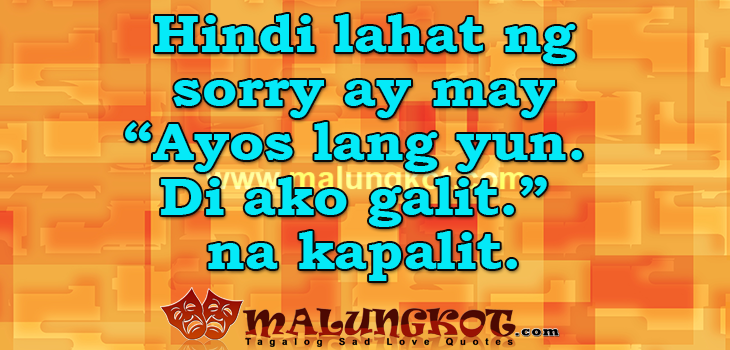 5. Hindi lahat ng sorry ay may "Ayos lang yun. Di ako galit." na kapalit.
Sorry is not something you say, it's something you are. And more often than not people only say it to ease their own guilt, rather than feel bad for the pain and hurt they have caused someone else. Too many empty apologies. Should always be said to someone's face, then you will know if they really mean it cause the eyes never lie.
6. There are some things that "I'm sorry" can't fix.
It is easy to say sorry for the things we've done, it is also easy to forgive and forget, but one thing that will never be easy is to trust again after disappointment. Sorry means nothing without progress. If you failed to make any progress and you keep saying sorry, don't even bother saying sorry. You're better off keeping it to yourself.
Commonly these days, peoples don't realize that they are using this word for apologizing. It has just become a habit. We have lost the feelings of apology when we utter this word. You said a bad word, say "Sorry". Hit someone, say "Sorry". Did not go on time, say "Sorry". It has become like you give someone a tight slap without any reason and Say "I am sorry". It has become an easy way out to run away from troubles caused by our mistakes. OK it's not bad to say sorry. But then one should realize the true meaning of this word. S- sincerely O- offering apology R- right from my heart R- realizing my mistake and truly apologizing to Y- you, with a promise to try not to commit that mistake again.
(Visited 4,863 times, 1 visits today)