Heartbreak doesn't feel good! It's one of the things in life that most of us would change if we could. When love is lost, do not bow your head in sadness; instead keep your head up high and gaze into heaven for that is where your broken heart has been sent to heal.  Heartbreak hurts so deeply because it pulls at that raw abandonment nerve we all share. It rips us open to the core, overwhelming us with powerful emotions — loss, despair, panic, shame, hopelessness — that seem all out of proportion to the actual event. How to overcome heartbreaks? Read below.
---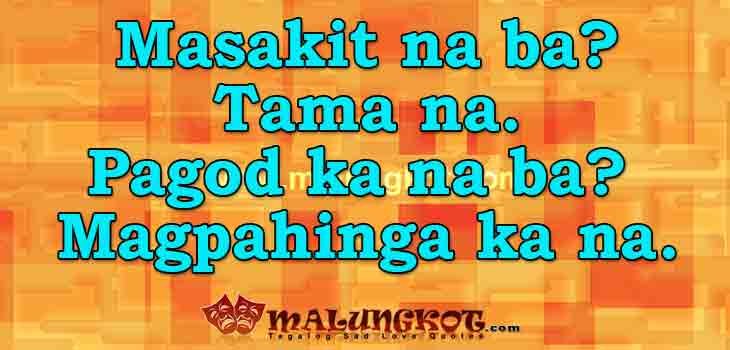 1. Masakit na ba? Tama na. Pagod ka na ba? Magpahinga ka na.
Sometimes you have to accept the fact that certain things will never go back to how they use to be. Getting over a painful experience is much like crossing monkey bars. You have to let go at some point in order to move forward. Recognize how much pain this person has caused you. Don't dwell or obsess, because believe me, that can turn you into a monster, but know your value and that this individual just isn't worth wanting back. Some people, no matter how much we are drawn to them, are not worth the sacrifice.
---
2. Kita mo na kung paano ka niloloko, tuloy-tuloy ka pa rin. Hindi masamang gamutin ang sariling katangahan, try mo.
Don't worry about losing.  If he's the right one, he is – The main thing is not to hurry.  Nothing good gets away. Accept and appreciate your worth as you are deserving of more than hurt. Everyone deserves a person who loves them unconditionally, even at their worst. A person who wants to see them smile and laugh. Who will listen to their complaints, their hopes, and their dreams. Who will laugh at even the corniest jokes. If you aren't being treated like you are amazing and worthy, something is wrong. Because you are beautiful and smart and remarkable. If you're with someone who doesn't see this in you, you are settling for less than you deserve. And you should stop.
---
3. Hindi pagkalimot ang solusyon sa bawat heartbreak, isang magandang solusyon ay ang pagtanggap na natapos na ito, natapos na ang storya nyo. Acceptance.
Acceptance is one of the longest and most painful stages in the healing process, but remember that accepting the split and accepting your pain is a vitally important part of healing and it means you're on the way to getting over him. Acceptance of the break up is what you need to strive for in order to get on with rebuilding your life and being able to accept love again.
---
4. Wag mong isisisi sa lahat ang pagkakamali ng isa!
Not all boys are the same, you just keep meeting the wrong ones. One guy can make you hate all the guys and everything about them, but one man can walk into your life and love you for who you are and show you that not all guys are the same.
---
5. Maging mas malapit kay God. Magdasal ka – Getting over with someone is a tough one pero sureness madali kang makakapagmove on kung meron ka nito.
The Lord is close to the brokenhearted and saves those who are crushed in spirit (Psalm 34:18). Turning to prayer to get over your break up sounds so simplistic, but God can provide you with some of the best comfort you will ever receive. Anyone who has been through a break up knows the devastation it can cause, even if you are the one ending the relationship.
(Visited 2,011 times, 1 visits today)