Letting go doesn't mean you don't care about someone or something anymore; it's just realizing that the only thing you truly have control over is yourself, right here, right now. It's a necessary process of adapting to the ever-changing realities of life – leaving behind the past to make way for the present. Here some quotes that will help you let go and live well.
1. Let go even if it hurts.
Letting go, even if it hurts, doesn't mean you have to let go of everything. You just have to let go of the person and your feelings for her/him but the memories will always be there whether it's good or bad. Because every time you remember those memories, it will always put a smile into your heart. And be glad that once in your life this person made you happy and put colors into your life even if it's just for a while.
2. No matter how you live, someone will be disappointed. So just live your truth and be sure YOU aren't the one who is disappointed in the end.
There's a time in your life when enough is enough, people will always hate you or treat you like you're invisible. But the best thing about pain is that; you will always learn and grow from all the hurt you've been through, being alone will give you more time to work on you and find true happiness, letting go of all the ones who hurt you will change your life.
3. Letting go doesn't mean giving up, but rather accepting that there are things that cannot be.
Letting go is one of the hardest things to do. It doesn't mean giving up .It means that after you have done everything you have possibly can move yourself closer to the ideal of love and your perfect mate; you simply have to stop worrying about it and turn things over the man upstairs. Let go, and let God.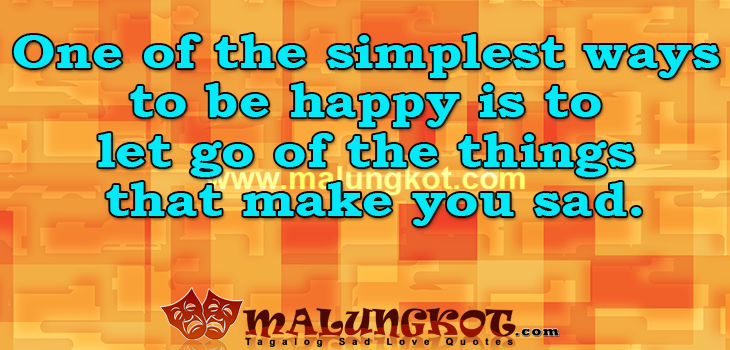 4. One of the simplest ways to be happy is to let go of the things that make you sad.
Let go of every little things that makes you sad and miserable. To let go is to be thankful for the experiences that made you laugh, made you cry, and made you grow. It's about all that you have, all that you had, and all that you will soon gain.
5. If you love something, let it go. If it comes back to you, it's yours forever.
Letting go of someone dear to you is hard, but holding on to someone who doesn't even feel the same is much harder. Giving up doesn't mean you are weak! It only means that you are strong enough to let go. If he/she comes back then you two are meant to be.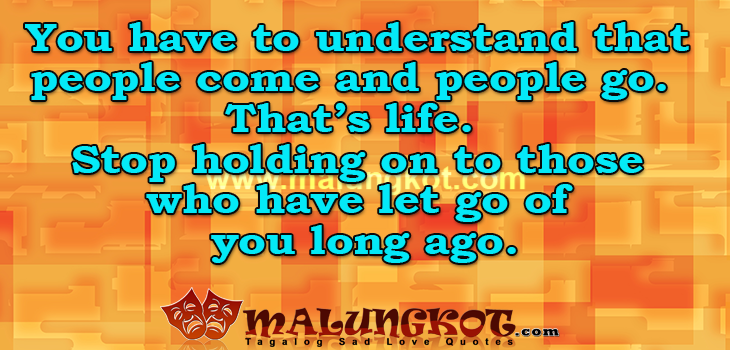 6. You have to understand that people come and people go. That's life. Stop holding on to those who have let go of you long ago.
You will find that it's necessary to let some things go simply for the reason that they're heavy on your heart and soul. Let go of them. Don't clamp shackles to your own ankles. It's incredibly easy to enjoy more of your life right now, no matter what the situation. It's just a matter of letting go of the layers of nonsense that are weighing you down.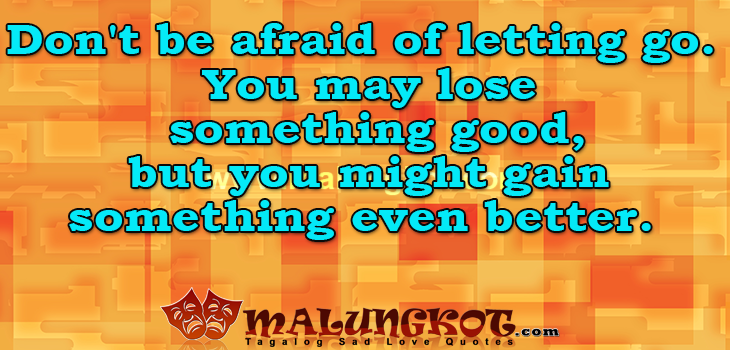 7. Don't be afraid of letting go. You may lose something good, but you might gain something even better.
If you're having a hard time letting go, realize that if they wanted to stay, they'd still be there. Sometimes love means letting go, and sometimes love means letting be.
Summary:
Letting go of someone you love is one thing we don't want to experience. Knowing that you are letting go of something precious and beautiful, you hold on to that thing even though you know that it is not worth to cling on to. It applies to all types of loss, may it be a friend, family or love ones. Letting go means you love them and let both of you move on to a better situation.
(Visited 520 times, 1 visits today)