Here are the lists of Hugot Lines from different unforgettable movies here and abroad.
---
1. "'Yung ganyang kalaking pagmamahal, ganyang overwhelming love, imposibleng walang pupuntahan, e. May mababalik sa'yong pagmamahal. Not necessarily sa taong pinagbigyan mo, pero sigurado ako, mababalik 'yan sa'yo." – That Thing Called Tadhana
It might not be the best relationship and it is not what you hoped it would be, but don't lose faith in love. In time, with the right person, loving will be as easy as breathing and will be one of the best feelings in the world.
---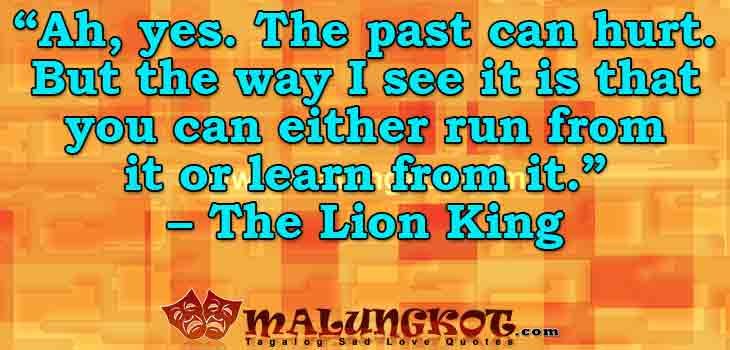 2. "Ah, yes. The past can hurt. But the way I see it is that you can either run from it or learn from it." – The Lion King
Take everything in life as a lesson learned. Don't run away from your problems. Everything that happens, happens for a reason. Sometimes life hurts you, but whatever doesn't kill you will only make you stronger. Fight back, don't give up.
---
3. "Dapat wala ka nang pakialam. Kasi the fact na nagagalit ka pa, ibig sabihin may pagmamahal pa." – My Amnesia Girl
Sometimes relationships can be saved and passions rekindled. And sometimes we know that when something is over, it needs to remain over. It's one thing to understand why you and he or she broke up and it's another to understand why you and he or she must remain broken up.
---
4.  "People change. Nothing stays the same forever. Change is bound to happen." – It Takes A Man And A Woman
Nothing ever lasts, nothing is dependable. Nothing stays the same forever. Nothing lasts forever. So live it up, drink it down, laugh it out, avoid the bullshit, take chances, and never have regrets. The pain you feel today is the strength you feel tomorrow. For every challenge encountered there is opportunity for growth.
---
5. "Darating din 'yung tao na 'di ka iiwan. Siyempre, magkakamali ka at mag-aaway kayo, pero nandiyan lang siya para sa'yo." – English Only, Please
Don't assume that your ex was the greatest person ever, because there are plenty of signs you deserve someone better than him. Even if you felt like your relationship with him was perfect, you have to remember that it ended for a reason. If you were meant to be together, then you would have ended up together. That's why you should heed the signs you deserve someone better than your ex.
---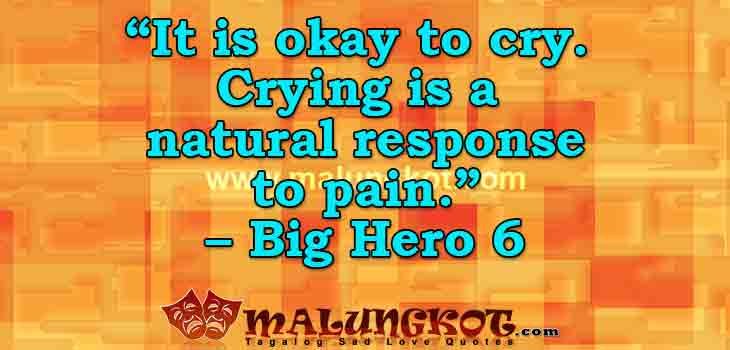 6. "It is okay to cry. Crying is a natural response to pain." – Big Hero 6
Crying allows you to begin to heal. Remember, sometimes it is good to cry and let grief have its way. Your tears allow you to release pain, sorrow, and disappointment, in a very bodily and emotional way. And allowing yourself to cry makes room for healing and hope.
---
7. "Kung talagang mahal mo ako, dapat hindi mo ako iniwan." – Starting Over Again
A person who truly loves you will never let you go or give up on you, no matter how hard the situation is. If you truly love someone, don't let them go without a fight.
(Visited 3,455 times, 1 visits today)