A new set of Patama Tagalog Quotes! May gusto ka bang patamaan? Para sayo ang mga lines na ito. It's hard to approach someone directly, so maybe these quotes might help you with that. If actions fail, there still words to tell. Have fun reading and don't forget to share.


1. Hindi sa taas ng edukasyon nasusukat ang pagkatao. Mababa man ang pinag-aralan mo, kung marunong kang rumespeto, daig mo pa ang edukado.
Respect is one of the biggest factors in our life as we know it. Earning something like this is a great possession even when you are living just a simple way of life. No matter how great your achievement was, if you never know how to respect others, it means nothing. Not everyone knows this kind of virtue, especially those individuals who think too high of themselves. Respecting others doesn't determine you're state of living. It must be with us anytime at any circumstances, educated or not and whoever we are.
2. May mga sikretong kaya mong sabihin sa kaibigan mo, pero 'di mo kayang sabihin sa magulang mo.
There are some things that we are too afraid to tell to our parents. First and foremost, we are too afraid to be scold. And secondly, we are too introverted at their presence. Unlike our friends, we can crack jokes at them and they doesn't bother at all. They won't be mad at us too. Though, why don't we try to befriend our own family? Our mother. Our father. Brothers and sisters. For sure, they won't let us down. Unlike our friends, we never know who are really true and who are not.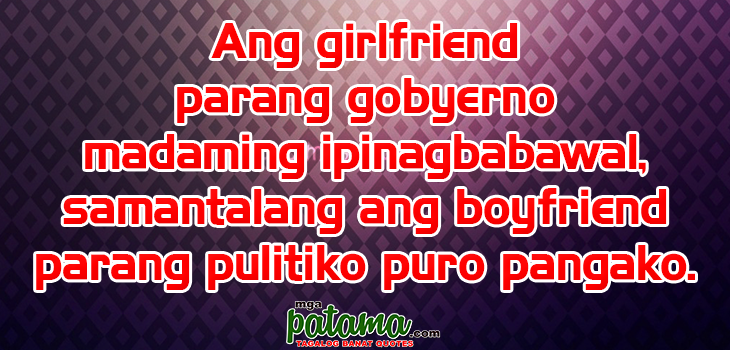 3. Ang girlfriend parang gobyerno madaming ipinagbabawal, samantalang ang boyfriend parang pulitiko puro pangako.
Relationships just come and go; some stays and some are not. There come rules also. Rules are given by mostly, girls. They are the ones who always warn and prohibit you on doing something which they think not good for you. Boys, on the other hand, are always filled with promises. Promises that are sometimes forgotten. Promises that in the end, became useless like it was never said at all. So be wary, choose the government who warns you if you are doing wrong and choose the politician who kept his promise until the end.

4. Ang tao parang dagat, hindi porket malinis at kaaya-aya tingnan eh maganda na lahat ang katangian.
Outside appearance doesn't speak what a person is. Someone might look pleasing and respectable on the outside but have an awfully rotten personality in the inside. What we see doesn't justify it all. There also come these words and actions given by that person. Appearance isn't always the basis of everything. It was just a factor that compromises a person, a thing and so on.

5. Huwag na huwag mong kalilimutang magdasal. Dahil sa unang banda, hindi kinalimutan na Diyos na gisingin ka.
Praying is one of the best things that our parents taught us. From our first childhood memories until these days, we know what this word means. Just make sure that we doesn't only know what this means but we also live it in ourselves. A minute of prayer won't cause us too much of our time. Be thankful for another day of your life, you can still have your precious time to spend with the ones you love.

6. Kung ayaw mong masaktan simple lang, iwasan mong mag-mahal ng taong nilalandi ka lang.
True love is different from flirtations. Open up your mind and also guard your heart. Some people are born liars and flirts. They are happy to cause someone pain because to them, love is just a game. It is just unfair how you take it seriously while in the end, you'll realize that all your efforts are wasted because everything is just mere lies. Love with all your heart but take your brain with you.
7. Kung gusto mo gumaan ang loob mo, harapin mo ang totoo. Hindi yung si Simsimi ang iniisturbo mo.
Speaking of Simsimi, ang makulit na dilaw na sisiw na may pagkapilosopo na mahilig mang sermon sa mga taong sawi na nga pero ayaw pa rin matuto. Simsimi is not the solution actually. But still, this yellow being could make you smile even just for a couple of minutes. Just don't make this a habit because no matter how long you talk with that sisiw dapat ka pa ring magising ang sa kung ano ba talaga ang dapat gawin. Sitting there wouldn't solve your problem. Huwag guluhin ang sisiw na nangangarap pang lumaki at maging ganap na isang manok. LOL.