Sometimes life can seem very painful. The people who seem to get the most out of life, are those who are willing to smile through the pain, and who no matter what, choose to see the silver lining in each situation. For you to cope with sadness here are our English-Tagalog Malungkot Quotes to help you.
1. Wag kang susuko, mawawala din ang sakit. Magtiwala ka lang.
As we go through life, and we learn more from our experiences, it is impossible to avoid the lessons that pain will bring. The key to overcoming the pain in your life is to realize that though pain is something that is inevitably a part of life, we have the choice of whether we are going to wallow in it and suffer, or move on from it, and do our best to let it go.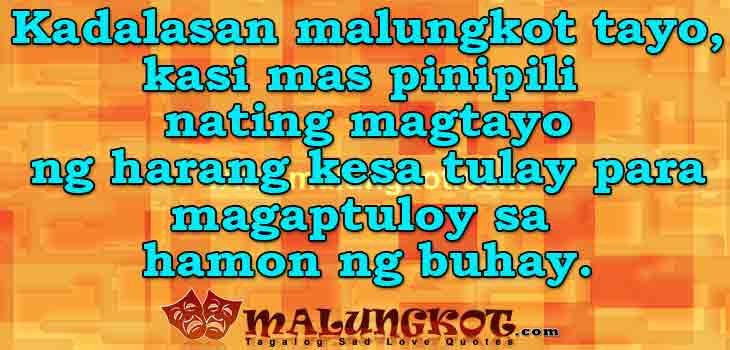 2. Kadalasan malungkot tayo, kasi mas pinipili nating magtayo ng harang kesa tulay para magaptuloy sa hamon ng buhay.
True enough, many of us have been hurt, and are reluctant to trust someone to love us again. In the long run doing so will only get you a life full of loneliness, instead of a life full of happiness. Feelings of loneliness and unhappiness kick in after long periods of being by ourselves because as humans we instinctively are drawn towards being part of a collective instead of being by ourselves.
3. Minsan, isang umaga magigising ka na lang, wala na palang nagmamahal sayo.
I'm sure we have all at some point felt as though no one in the world has our back, and that no one cares or loves us, but this should never be true, because at the end of the day, it is inevitable for us to love ourselves first, so that other people may be able to love us as well. Usually us feeling like this doesn't really hold true anyway and we just aren't thinking clearly about those people that truly love us, or if we can just find the love we should have for ourselves then we will easily blossom into beautiful flowers that everyone wants to pick, take care of, and love.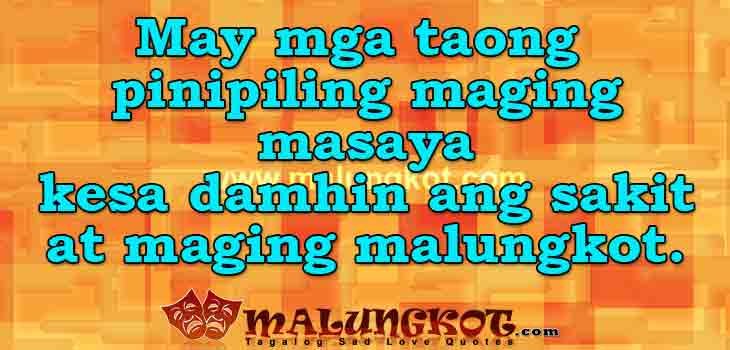 4. May mga taong pinipiling maging masaya kesa damhin ang sakit at maging malungkot.
On occasion there are people in our lives, and brought into our lives by unusual circumstance, coincidence, or just by typical life situations, that seem just to want to make everyone happy. These people may range from members of family to close or distant friends, and usually seem as happy as can be. Sometimes these people are the loneliest people we may know, and we might not even know it. Some of the loneliest people can reach out to you by being the best person that they can possibly be to you.
5. The worst feeling isn't being lonely but being forgotten by someone you can't forget.
Sometimes in our lives we have to endure the worst of times to be able to appreciate the best of times. There are many times in our lives that we will be faced with being wronged by someone. Sometimes we will love someone more than they are able to love us, sometimes we will care about someone way more than they will ever care about us and sometimes we will be forgotten by someone who we will never be able to forget about.
6. Maybe it's not always about trying to fix something broken. Maybe it's about starting over and creating something better.
Starting over can be done most effectively with the designing and implementation of a solid plan or set of goals. It is essential before starting over to make sure you use all assets, support systems, and aid to ensure that you will have a smooth take off on your new journey. Starting over is most always difficult, but can also be the most beneficial decision that you will ever make in life.