The sweetest victory is the one that's most difficult. The one that requires you to reach down deep inside, to fight with everything you've got, to be willing to leave everything out there on the battlefield—without knowing, until that do-or-die moment, if your heroic effort will be enough.
The master has failed more times than the beginner has even tried.
Remember that a successful person once experienced failure in life. If you never fail, you'll not learn. Failure should be our teacher, not our undertaker. As long as you're failing, you'll learning, and that failure will bring you on top. Just keep moving despite the fall. Because at the end of the day it's all worth it. 
If you're not prepared to be wrong, you'll never come up with anything original.
Do the one thing you think you cannot do. Fail at it. Try again. Do better the second time. Be original. The only people who never tumble are those who never mount the high wire. This is your moment. Own it.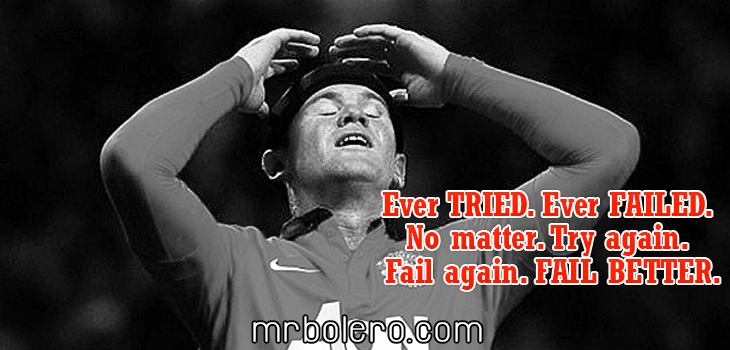 Ever TRIED. Ever FAILED. No matter. Try again. Fail again. FAIL BETTER.
The people who are good in the long run fail a lot, especially at the beginning. Every rejection is a gift. A chance to learn and to do it better next time. An opportunity to figure out how to bounce, not to break. Don't waste them. It will make you stronger and better than ever. 
Don't worry about making mistakes. In fact, the more mistakes you make, the more progress you are making. Just don't repeat the same mistakes.
If you have made mistakes, there is always another chance for you. You may have a fresh start any moment you choose, for this thing we call 'failure' is not the falling down, but the staying down. If you made mistakes, don't repeat it. Learn from it. If you made mistakes twice, it's not a mistake anymore. It's a choice.
So many people can be responsible for your success, but only you are responsible for your failure.
You may fall many times, but you won't be a failure until you says that someone pushed you. Your failure doesn't depend on other people. If you think everything you've done is great, you're probably dumb.
Great individuals make great successes out of failure.
One fails forward toward success.  Failure doesn't mean you are a failure…  It just means you haven't succeeded yet. You build on failure. You use it as a stepping stone. We speak about success all the time. It is the ability to resist failure or use failure that often leads to greater success.
Sometimes you win and sometimes you learn.
Sometimes life is just unfair. Full of mistakes that only us can overcome. But if you learn how to face those mistakes,  you may thank yourself for doing it though. Regret nothing. Failure is delay, not defeat.  Failure is something we can avoid only by saying nothing, doing nothing, and being nothing.
It seems that failure tends to be more public than success. Or at least that's what we perceive it to be. We fret it, we try to avoid it, and we question ourselves every time we have unconventional ideas. But the simple truth is – no great success was ever achieved without failure. It may be one epic failure.