Long Distance Relationships are often tagged as high risk and this seem to be supported by an age old adage that states that "out of sight is out of mind". If you are in a distant relationship, you would need to double up on your average commitment to make it work. Theoretically, this means that you would need more trust, more communication and more romance to keep the relationship afloat and quotes are often needed to remind you of how it all started and where the relationship is hoped to get to. Loving from a Distant Quotes helps you to keep the romance alive between both of you.
1. We are the perfect couple; we're just not in the perfect situation.
Distance is not for the fearful, it is for the bold. It's for those who are willing to spend a lot of time alone in exchange for a little time with the one they love. It's for those knowing a good thing when they see it, even if they don't see it nearly enough.
2. The longest period of time is waiting for something or someone you truly want.
Some couples think that long distance affects their relationship badly and love will disappear if they don't have regular contact to each other. But loving from a distance can test how strong this feeling is and how much the couple loves each other. To maintain the distant relationship, you need to balance the trust and communication. Whenever one fails the other will cause the break.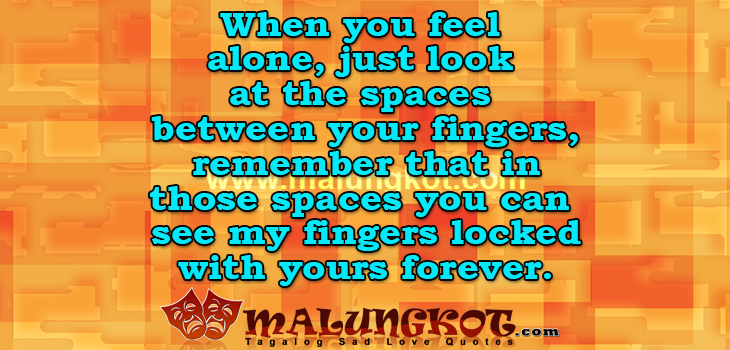 3. When you feel alone, just look at the spaces between your fingers, remember that in those spaces you can see my fingers locked with yours forever.
Missing someone is a part of loving them. If you're never apart, you'll never really know how strong your love is. Distance is only a number, feelings can't be measured, and time doesn't exist when you have someone you can't get off your mind. Love knows no reason, no boundaries, no distance. It has a sole intention of bringing people together to a time called forever.
4. It's better to love someone who's far and craves to be with you than to love someone who's near yet doesn't even care to see you.
If you want something to last forever, you treat it differently. You shield it and protect it. You never abuse it. You don't expose it to the elements. You don't make it common or ordinary. If it ever becomes tarnished, you lovingly polish it until it gleams like new. It becomes special because you made it so, and it grows more beautiful and precious as time goes by.
5. Expectations: Using the person next to you as pillows. Reality: Using the pillow next to you as a person.
Distance doesn't ruin people's relationship. You don't have to see someone every day to be in love. Missing someone isn't about how long since you've seen them or the amount of time you've talked them. It's about that very moment when you're doing something and wishing they were right there with you.
6. One day, you won't have to say "goodbye" ever again, only goodnight.
Long distance relationship is one of the best relationships. It's really sweet to see two patient hearts that are willing to wait because they think that everything is worth it anyway. Yes it's hard not being together physically, you cannot hold each other's hand. You cannot kiss and hug each other, but still, you know that one day you will.
7. In long distance relationships, without time what you call love is meaningless.
Long distance relationships prove that love has no boundaries. They prove that it can happen and it is possible for two people far away from each other, can fall in love even without meeting each other. But most importantly these types of relationships know no age, and no distance.
Long Distance Relationships are a big challenge, and even though most of times the love that we have for our partners it's more than enough to keep up going, sometimes though, we just feel down, demotivated, sad and ready to give up. And that's when we need a boost, we need to keep believing in a great future. If one can make a healthy balance between the challenges and advantages related to the long distance relationships one can be sure of making it click and in a great way too.