One of the most difficult tasks in life is removing someone from your heart. – But remember, no relationship is a waste of time.  The wrong ones teach you the lessons that prepare you for the right ones. Heal your heart by reading our collection of Tagalog BrokenHeart Quotes.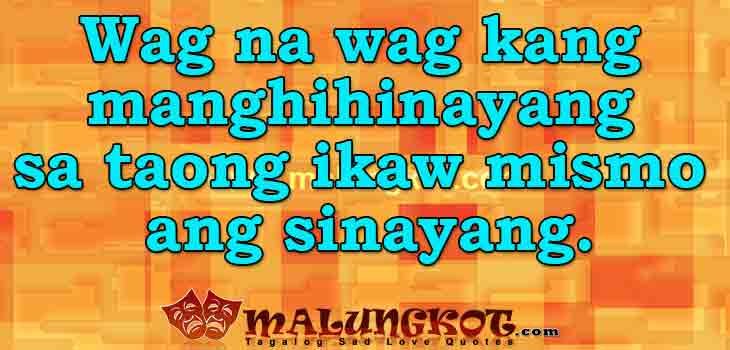 1. Wag na wag kang manghihinayang sa taong ikaw mismo ang sinayang.
Some relationships will be blessings, others will serve as lessons. – Either way, never regret knowing someone.  If he doesn't respect you, then you deserve better.  Know your value and what you have to offer, and never settle for anything less than what you deserve.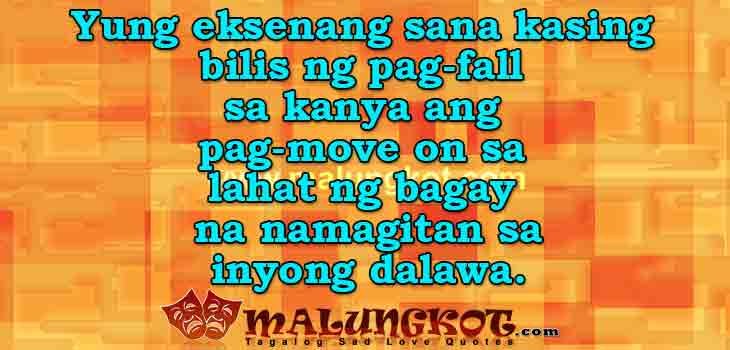 2. Yung eksenang sana kasing bilis ng pag-fall sa kanya ang pag-move on sa lahat ng bagay na namagitan sa inyong dalawa.
How we wished that moving on was just as fast as we fell in love. But sadly, it isn't just like that.  Healing from heartache is a process. It won't happen right away. You'll have setbacks, you'll encounter problems, and you'll feel a wide range of less than enjoyable feelings. Everyone heals at a different pace.
3. Minsan, dapat matuto tayong bumitaw. Dahil mas okay na ang maging malungkot ng panandalian kesa magmukhang tanga ng matagalan.
The hardest thing to do is letting go, not because you want to but because you have to. Sometimes in life we have to end relationships that we would rather not end. When we truly have loved someone with everything inside of us, letting go of that person does not even seem reasonable. Sometimes we just have to let go of that person or situation because that pain is taking us farther away from our life's pursuit of happiness, whether you realize when you need to or not.
4. Lahat ng kasalanan kayang kalimutan, pero hindi lahat ng nakaraan kayang ibalik ng kapatawaran.
No one can change the past, but you do have the power to upgrade how you feel about it, and that makes all the difference. You can take your power back from all those painful memories, and make peace with your past. Forgiveness does not mean that you let anyone off the hook, it means that your present happiness is more important than your past suffering. Forgiveness does not mean that you condone the hurtful things done to you, it means that you reclaim your right to run your own life.
5. Masakit kapag ang taong mahal mo, ay masaya sa piling ng iba pero kailangan mong ipakita na masaya ka, kahit na sa loob mo 'sana, ako na lang siya'.
Worst feeling is to see someone you love, loving someone else. That feeling when you loved him like anything, but still he managed to love another girl. Never have hopes when it comes to emotions and feelings. You'll die loving and caring but ultimately end up being a second person. All your happiness starts from her and ends with her. Thousand tears rolled but non was seen, with just a broken smile you've always been. Still you wished that you were her-the one he loves.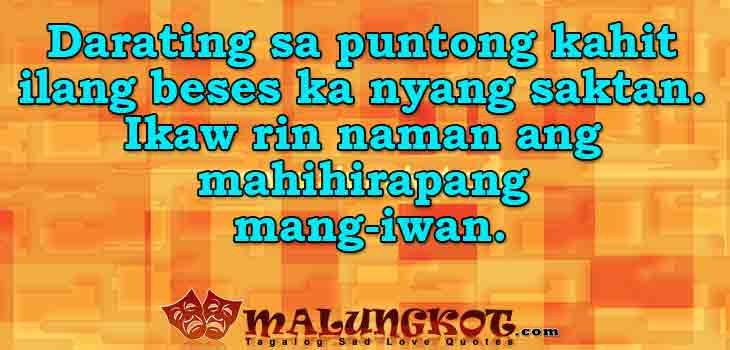 6. Darating sa puntong kahit ilang beses ka nyang saktan. Ikaw rin naman ang mahihirapang mang-iwan.
You have every right to leave someone if they have treated you badly. But if you're in love with them, it can be hard to leave and let go of that emotional attachment, even though you know they're not treating you right. Whether you stay or leave is your decision, and no one else should judge you for it. You have to do what's right for you. On the contrary..
It's hard to let go but it doesn't make any sense staying to get hurt and mistreated. You deserve better! Don't succumb to the "I might not find anyone better" idea. Don't settle for something that's not working for you. Go out there, believe in your standards, and try to find the person you want. It's better to be independent and happy than it is to be in a relationship with someone you have to settle for at the end of the day.