Broken hearts hurt but they will make you strong. When you read quotes about moving on you are giving your brain positive messages that will help the healing process and get you back to a good-feeling place.
1. Move on. Kaya mo yan, hindi siya ang huling tao sa mundo na to.
Move On. You just never know what's around the corner, and you can't hold the hand of who you're supposed to be with until you let go of the hand you're currently holding. There's good in every situation, and in order to get through a tough break up and on to the next chapter in your life, you have to appreciate that what you had may have been good, he's not the only guy living in this world, something better is on its way, and you're a stronger person now because of what you've been through.
2. Minsan kahit gaano pa kahalaga kailangan mong iwan talaga dahil ramdam mong hindi ka na mahalaga sa kanya.
You're the only force that can limit what it is you're capable of, so don't let this temporary setback stop you from moving on to bigger and better things. There's no timeline on how long it should take you to let go and start over, but you'll feel that it's the right time in your gut. When it starts to feel like a chore to still be hung up on this, that means it's time to leave it behind and take a look at your fresh new clean slate with feelings of optimism.
3. Bago ka magmahal ng iba, siguraduhin mong naka move on ka na talaga.
Rushing into a rebound relationship when you're not over a breakup is a recipe for disaster–and will likely just lead to another messy breakup in the end. Give yourself some time to process why you and your ex didn't work out. Try to learn something from the split before you go out with a cute guy just because he's there.
4. Minsan ang pag move on hindi rin dapat pinipilit. Gaya ng pagdating nya, mawawala din yan ng kusa.
Getting over someone you're in love with, who used to be in love with you, is quite possibly one of the hardest things you will ever have to go through in your life. Never force yourself to do anything that is outta your capabilities. Never love someone else if you know you still cannot. Remember, you're just gonna hurt yourself if you did. Don't worry. Pain will fade in time just like him.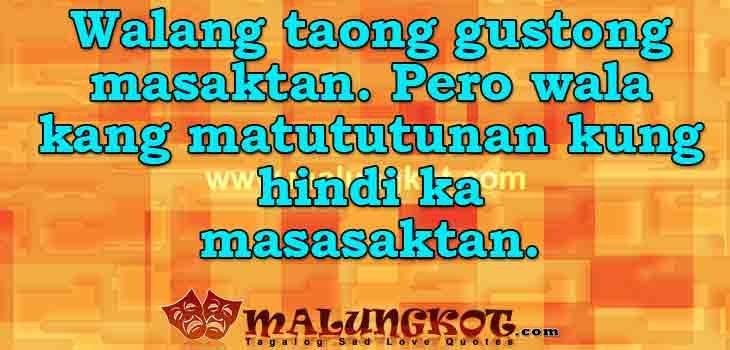 5. Walang taong gustong masaktan. Pero wala kang matututunan kung hindi ka masasaktan.
No one on earth doesn't want to get hurt, but how can you learn something if you don't want to? Being hurt is an unbearable feeling. You convince yourself that true love does not exist and no one will love you the way you deserve. It's only natural to feel those sentiments but, the harsh reality is, a failed relationship is not the end of the world. The failed relationship was not meant to be.
6. May mga bagay na kahit naiintindihan mo ang dahilan, hindi mo pa rin maiiwasan na masaktan.
You must accept the reality that the relationship is over. Holding on to a failed relationship will never allow you to move forward and find true love. Take as much time as you need to evaluate the past relationship. Revisit the good and the bad and understand why the relationship had to end.